Eat at Paladar. Earn Rewards.
Join our rewards program and receive perks just for dining with us. Welcome to Paladar by Thanx!

What it is
Earn progress and redeem rewards with Paladar's mobile loyalty app, powered by Thanx.
Watch your points add up after each visit, keep track of your progress toward your next reward and see the perks of your loyalty appear right from your fingertips.
For Paladar guests who are members of our previous loyalty program, simply transfer your points and rewards over to the app for a seamless upgrade.
Get started today!
Did someone say free donuts just for signing up? Whether you're a happy hour regular, brunch loyalist or just can't get enough Paladar, sign up by visiting Thanx.com/Paladar and start earning progress toward your next reward.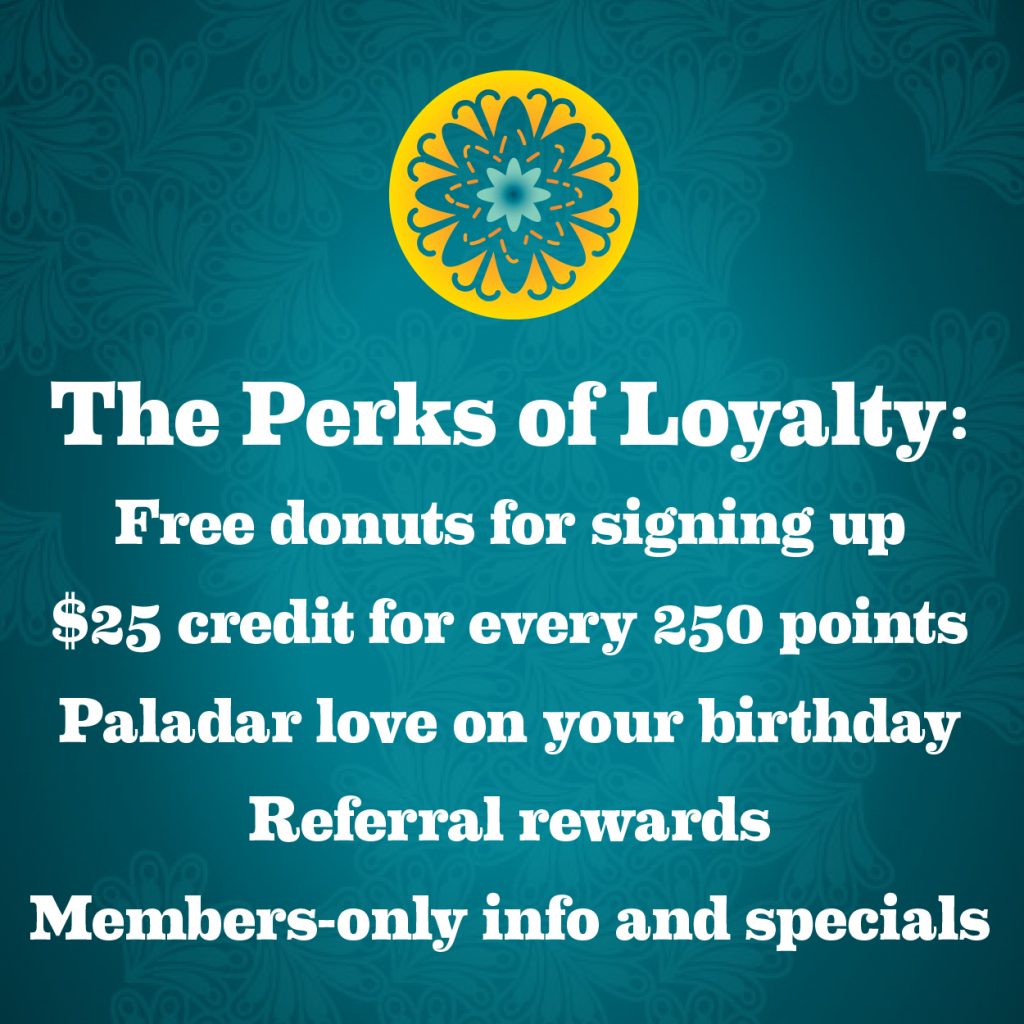 Questions?
We're here to help. Read our FAQs below.

How do I get the app?
The app is available for free in iTunes and Google Play. Simply search for "Thanx" and download the app, or sign up at Thanx.com/Paladar.
How do I transfer my points to the new app?
For any guests who were members of our former mobile loyalty program, your points will be automatically transferred over to your new account. Sign up using the same email address as our previous loyalty app and your points will appear in your account upon signing up! If you are not able to see your old points in your new account, please reach out to support@thanx.com.
How do my points and rewards convert to the app?
Your points and rewards will transfer automatically over to the new program. For every $250 spent you will receive a $25 reward.
How do I get rewards?
Once you have set up your account and linked your card, you will receive automatic progress for every purchase you make with your linked card. Once you reach 100 percent progress (spend $250), you will earn a $25 off reward that can be used during your next visit. If you choose to use cash for your purchase, send a picture of your receipt (via the app or by emailing support@thanx.com) and Thanx will update your account.
Where do I find my rewards?
To see your reward and progress, you can go to the Thanx app or mobile.thanx.com. Under our Paladar logo, you should be able to see your existing rewards progress as well as any full rewards you have earned.
How do I redeem my rewards?
To redeem a reward, click on the "Redeem" button next to it. This will take you to a new screen with more information about the reward. Click on the "Redeem" button again to activate it, and show the new screen that will appear to your server. He or she will be able to apply the reward to your purchase. Please note: You will have 60 minutes to use your reward after you activate it.
How do I get referral points/rewards?
To refer a friend, simply click on the "Share Thanx, get rewards" button in your app. You will earn 20% progress for every friend you refer once they sign up, link a card and make their first purchase.
Why is my rewards progress not being instantly updated?
If your rewards progress isn't updated, try reloading the data in the app by pulling down to refresh on the detail screen. We recommend that you save your receipt as proof of purchase, just to be safe.
You can also check that you made the purchase with a card registered in the app. Click the menu icon and select "Registered Cards" to see which credit cards you have registered. If you used a card you don't have in your account, add it, then send in the receipt. You can find a button to do this in your account by going to the "More" tab (or scrolling down if there isn't one), and clicking the button to send us a receipt. Just use your phone to take a snapshot. Please note: Progress will not be added for credit card receipts if you do not have that card registered with your account (this is to prevent accidentally issuing double progress).
Can I redeem more than one reward in the app?
Yes! You can apply one reward to your check or save them up and apply them all at once. Your server can help with redeeming each reward for you.
Do credits or rewards ever expire?
While your loyalty rewards do not expire ($25 off earned for every $250 spent), the birthday credit has a 60-day expiration date. This is stated in the fine print on the reward itself.
Do I have to link a credit or debit card in order to sign up?
Yes, however, Thanx does not store any credit card information. The app functions the same way as Apple Pay. Thanx never sees or has access to your payment information, ever.
How do I link a credit card?
To link a card, go to either the Thanx app or mobile.thanx.com and log in to your account. Click on the three stacked bars and then on "Registered Cards." This will take you to a new screen with your linked cards. Click on the button that says "add a new card," and follow the steps to successfully link your card.
Can I use multiple credit cards to earn rewards?
Yes! You can register as many cards as you like. At this time you can earn progress with Visa, MasterCard, and American Express. Some cards may not accrue progress (the card companies sometimes don't send us notifications for pre-paid cards, cards issued outside the US, etc.). If that happens, just send us a snapshot of the receipt.
Does Thanx charge my card?
No. Thanx will never charge your card. When you register your card with the our app, your card number is encrypted with bank-level security and sent directly from your phone to Visa, MasterCard, etc. They mark your card as enrolled and send Thanx a notification when you use it to make a purchase at a participating location. Thanx never knows or even sees your credit card. Thanx will not and cannot charge your card, nor can your card be stolen from them; Thanx does not have it. All data sent to and from your phone is encrypted.
I'm having problems with my app. What should I do?
You can reach out to the Thanx support team either via the Thanx app (click on the three stacked bars and then on "support") or by emailing support@thanx.com.
How can I find a Paladar near me?
You can view all Paladar locations through the app. Simply click on the "locations" tab for iPhones or scroll down and click on the "locations" button for Android.
I have the former Paladar loyalty mobile app. Can I transfer my points to Paladar by Thanx?
Absolutely! All you will need to do is sign up for a Thanx account using the same email address when you signed up for our former mobile loyalty program.
Will the rewards structure of Paladar by Thanx be different than the former mobile loyalty program?
Only slightly. The only difference is the referral reward. When you refer the app to someone and they download it, link their payment info and use the app, they will get a $5 credit (vs. a free guac). Other than that, it is identical ($25 credit for 250 points; $15 birthday credit; free single guac for signing up).
How do I earn points if I am paying cash?
In the app, click on "More" and then "Send photo of receipt" to get credit for cash purchases. Simply take a photo of your receipt and send it to Thanx support to earn progress.
Can I earn points if I am paying with a gift card?
To prevent "double dipping," you cannot earn points if you are paying with a gift card.
Do I earn points on gift card purchases, private events, catering and carryout orders?
Yes. You will earn points on gift card purchases, as well as private events, catering and carryout orders.
I have a question that wasn't addressed above. Who should I contact?
If you have additional questions or feedback about our mobile loyalty app, please let us know! Email Thanx 24/7 at support@thanx.com.