Give the Gift of Paladar for the holidays!
Gift cards can be used at any Paladar location and are perfect for foodie friends, bosses and fellow colleagues, and anyone who enjoys fresh flavors and a unique dining experience!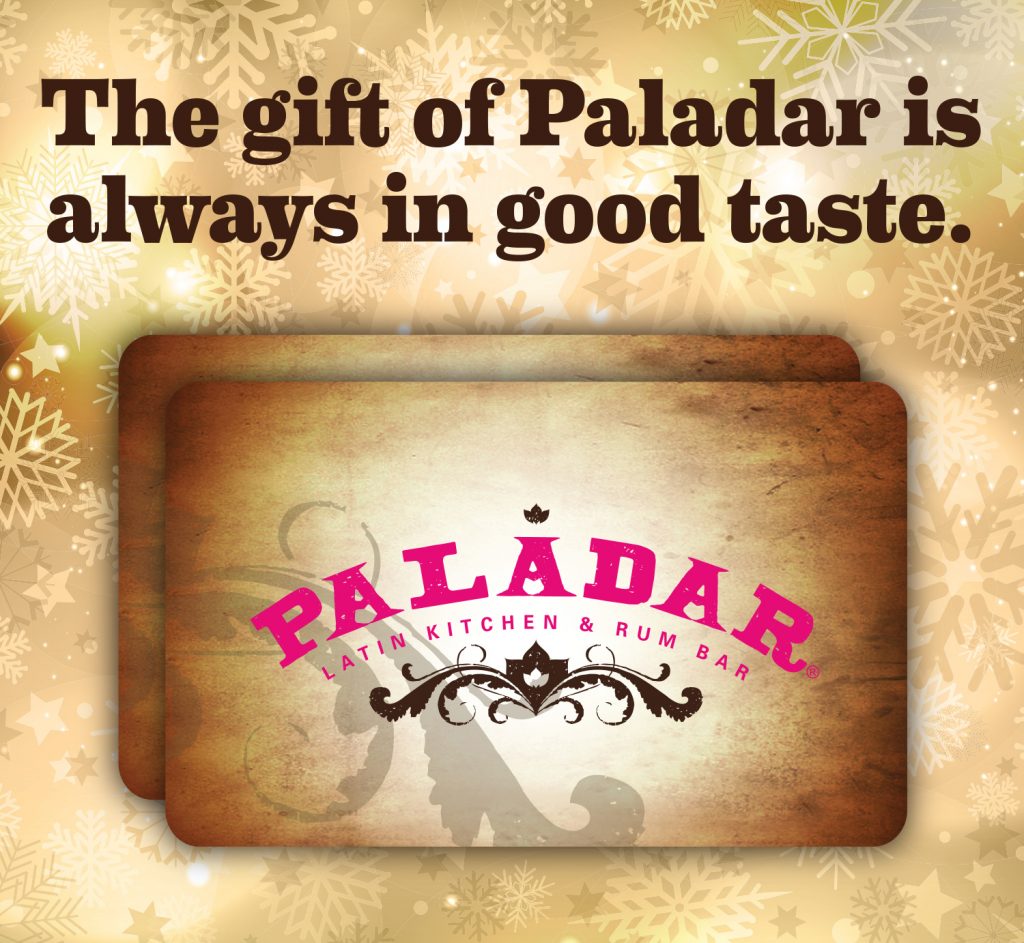 Important Information about Gift Card Purchases
At this time, we are unable to issue digital e-cards. Gift cards are sent by mail via USPS and will be mailed out within 3 business days of your order. Your gift card order can take up to 5-7 business days to arrive, though this time frame may be longer during the busy holiday season. There is no charge for shipping, and all gift card orders are fulfilled at our Support Office. While we cannot guarantee delivery by a certain date, we suggest placing your gift card order no later than December 14. 
Gift Card Kickbacks are Here!
From Monday, Nov. 19 – Sunday, Dec. 30, get a $10 kickback card for every $50 you spend on Paladar gift cards this holiday season! Whether you decide to keep them for yourself or give them out as gifts, the decision is yours to make.
Every Friday through Dec. 30, 2018, get $20 in kickbacks for every $50 spent (valid for in-store purchases only; valid for use in January and February*).
*Offer extends through the end of March for our Paladar Woodmere guests.

Thank you so much for thinking of Paladar! Your gift card can be used at all Paladar Latin Kitchen & Rum Bar locations.
Whether it's used for a casual weekday dinner, a weekend night out with friends, lunch with colleagues, or drinks at our rum bar, a Paladar gift card is a gift they're sure to enjoy.
Your gift card will be mailed out within three business days of your order date. There's no charge for shipping. Please call our home office with any questions: (216) 591-1625.